Preservation SOS was approached in September by MetroNorth with the idea of developing Dancy Terrace. Since PSOS owns 8 of the bungalows, Metro North wanted us to embrace their project. And, to a certain extent, we have.
Their plan is to purchase all 24 bungalows (at appraised value per NSP guidelines) and renovate using the federal funds. Each bungalow will receive roughly 80k to renovate, which will be more than adequate to have a quality renovation.
That's a lot of money going into this project.
Of course, of great concern to Metro North is the parking situation. The alleyways can be utilized, but with an agreement with PSOS, no bungalows can be torn down. This leads us to the controversial aspect of this project. MetroNorth proposes to have a "lane" down the middle of the bungalows for access for the residents.
Pictured below is the plan.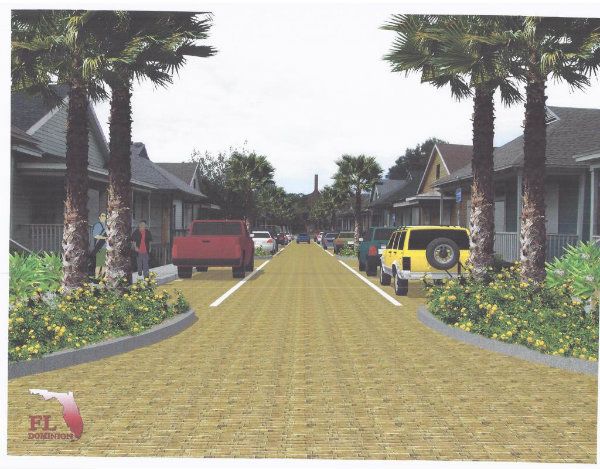 I don't think anyone celebrates the idea of the lane down the middle and certainly PSOS doesn't either. However, we see this plan as a great chance to save the bungalows from further deterioration and defer to the historic planning commissioners to make this call.
PSOS will benefit, financially, from this project. That money will go toward further preservation projects in the neighborhood.
This project goes before the Historic Planning Commission this month for an "Opinion of Appropriateness". This is just a way to ask the commissioners what they think.
There are many potential problems to this plan. It hinges on MetroNorth's ability to own all of the bungalows and get HPC approval. Both of these are significant hurdles.
But we are guardedly optimistic for Dancy and for the bungalows to be filled with life once more.